Frequently Asked Questions about hiring the Kombi Keg
How much does it cost to hire the Kombi Keg?
There are too many variables between the different events to list a fixed price on our website. Things like your event location, length of hire, how many kegs of beer or cider that you require etc all affect the hire price. The best thing to do is to contact us and we can work out the best package for your event.
What if I don't like the beers you have listed on the side of the Kombi?
No problem. The beer badges that you see in the pictures are for show only. The Kombi Keg that you hire will not have beer badges, it will have a slim line chalk board running the length of the Kombi Keg so you can write the beer descriptions with chalk. See pics throughout the website.
Can the Kombi Keg dispense drinks other than beer?
Yes! Anything that comes in keg form can be served through the freezing cold taps of the Kombi Keg. Including water, orange juice, soft drinks, ciders etc. You can even run your own home brew!!!
How many beers can be hooked up to the Kombi Keg at once?
We can hook 6 Kegs up to the Kombi Keg at once. We can also hook one keg up to two taps, so essentially you only need 3 kegs to make full use of the 6 Kombi Kegs taps.
Do you supply the kegs and beer?
The Kombi Keg Byron Bay Crew will make the beer ordering and purchasing process super easy and pain free by directing you to a brewer in your area who you can purchase the alcohol from.
We have connections to local breweries and beer companies who are waiting to take your order. We do not have a liquor license and do not endeavour to obtain one, so we can't purchase it for you, but are more than happy to help you organise your drinks. We also have half kegs (19L) that can be used for home brew, soft drink, juice and water. Just let us know when you book what you need and we will do our best to make it happen!!
Can I use home brew in the Kombi Keg?
Yes! We love a beer enthusist and a good home brew.
However, if you do want to use home brew then make sure you tell us when booking what type of kegs you are using (Tooheys, CUB or post mix kegs with ball lock fittings etc.) so we can bring the correct Keg couplers.
We will also need to know the quantity of kegs you plan to use.
Do I have to have the surfboard on the side? Are there other options?
The surfboard bench is the original and classic bench of the Kombi Keg, but we understand that not everyone wants the surfboard and that some events, like weddings, prefer a classier option. Introducing the rustic wooden bench, click here to see a photo. When you book you can choose whichever bench best suits your event.
Do I need to supply power?
240v power is not required for the Kombi Kegs instant chill cooling system. However, if you would like to use the 55′ flat screen TV, you will need to supply 240v power. In every Kombi Keg there is a 30m extension lead.
Do you supply glass schooners or cups?
We can supply clear plastic cups, if you would like these just let us know when you book. Although we do not supply glassware, you can easily be organised these through your local catering company.
What kind of venue do I need to have to use the Kombi Keg?
First of all, you will need a venue that the Kombi Keg can access, most large properties are fine, but if you are using your backyard just check that we can get the Kombi Keg in.
The Kombi Keg needs to be on private property, as it can not be used on council property without a permit. Most hire venues are private property, however every venue has different rules, so check with the venue for their rules and regulations around the serving of alcohol and the use of the Kombi Keg.
It is the responsibility of the person hiring the Kombi Keg before booking as all deposits are non refundable.
Do you stay and serve the beer?
We have RSA licensed Bar staff, it is the hirers responsilbity to check whether or not a person with an RSA is required to be at the event to serve the alcohol. If it is on privte property then there is a great chance that it can be self serve however you would need to check this out for your area and your event venue. We do have RSA and would be happy to stay and serve the beer at an additional cost.
What is included when I hire the Kombi Keg?
An instant chill beer cooling system, food grade C02 gas to pressurise the kegs, we can also supply 19L kegs for soft drinks, juice or water. There will be 3 drinks tubs in the rear of the Kombi Keg full of ice ready to put your cans or bottles in.
When you hire the Kombi Keg we deliver it to the venue, hook up the kegs set the pressures of the kegs and test the beer flow. We then leave you to event and then return to pick it up after the event.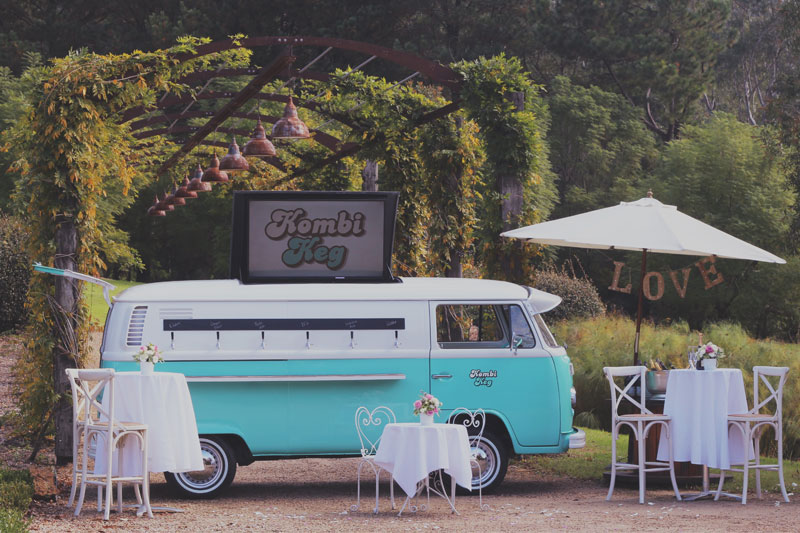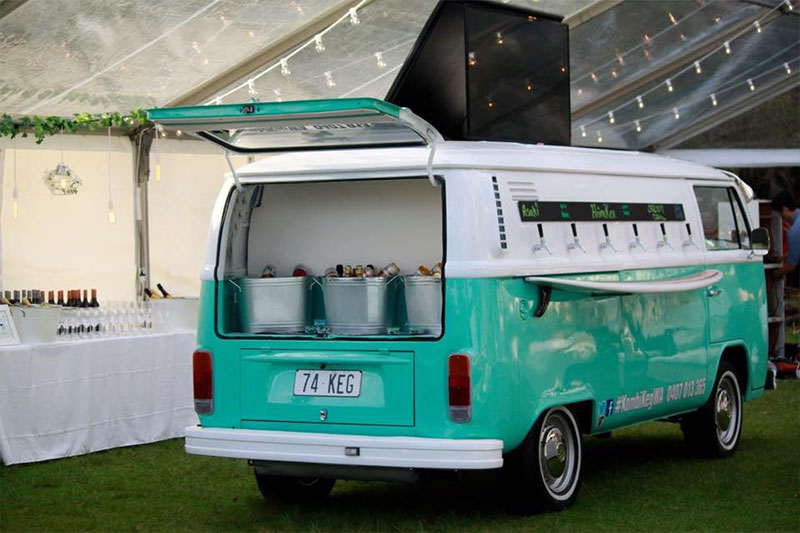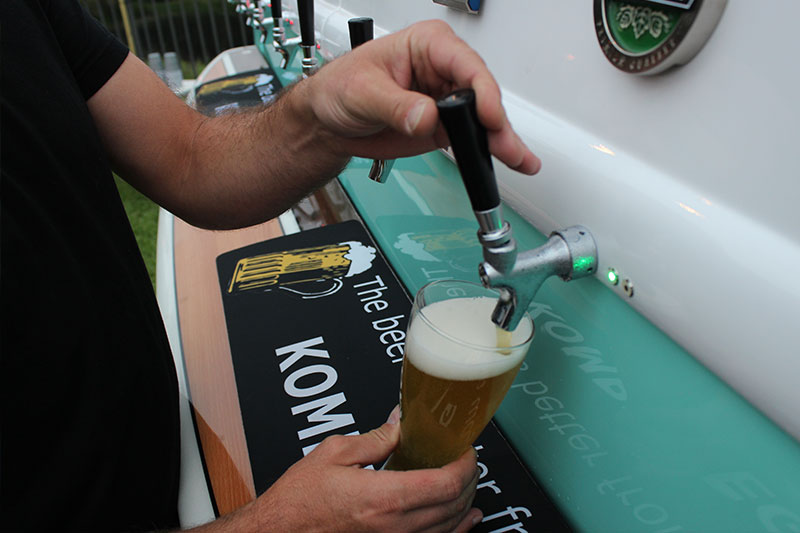 Interested?
For all Byron Bay Region enquiries please complete the contact form.
For all other all other regions please
click here.